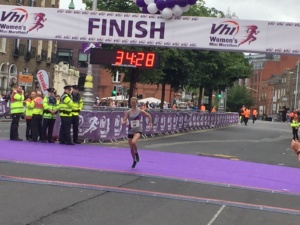 Well I am back. Had a lovely holiday and the first race I attended on my return was todays Mini Marathon and what a magnificent race it turn out to be. Laura ran a magnificent race to place 2nd overall with a new PB of 34.27. We also had the distinction of having 3 in the top ten with Linda ( 8th -36.48) and Niamh 10th in (37.09) . Also having fine were Barbara with a new PB of 39.28 and Florrie.
While away , we had a number of fine performances in the various races that the guys from the group competed in. I am sure I have missed quite a few results as well.At the Bob Heffernan 5k  in Enfield  Laura had  a victory in 16.31 with Linda 3rd ( 17.43)  Jean  2nd O/40 (19.12) Mary 2nd O/45 ( 19.45). In the Men's Sean F continued his fine recent form with 2nd O/40 (16.20 PB) followed by Will B (17.00) Fergal R (17.28) Brian B ( 17.51) and Alasdair (18.05).
At the Calcutta Rn in the Phoneix Park which is run over an unusual distance of 10.3 k we had Rory in 2nd , Chris B in 11th and Caroline in 12th ( 1st Female).At the D7k ( another unusual distance) we had the first 3 home in Shane Mac ( 25.29) Fergal R (25.46) and Peter O (27.10)
At the Ballysneach 5k Tom U finished a close 3rd place (16.00) only 7 seconds off the winner , Irish International Cross Country runner Liam Brady. At the Goverment Services 5 mile in dunboyne we had a number running with Paddy L our first home in 7th place (26.27 PB) followed by Brian G 9th (26.28 –  2nd O/40) Will B (27.46) Brian O (27.53) Jason (29.38) Pariac S ( 30.00 PB) Adrian B (31.36) Tomas ( 32.42 PB) and Alan J (33.15).
On the mountain running front we had a number of fine results as well begining with the Scarr Imra race. Alan H was 23rd and Aidan B was 37th with Liz close behind in 37th and also finishing Ist female overall. Liz followed up her win with another victory the following week , this time in Trooperstown. Robbie C was our first home in 12th followed by Caoimhi 19th Brian K 27th , Aidan B 30th and Ronan H 62nd. Finally at the Run the Rock in Aughrim we had Ian in 1st , Des in 2nd and Robbie C in 7th. All 3 were also on the winning team.
Thats all folks !!! Hope I didn't miss too many.