these unprecedented times , I actually have a race result of sorts to report on today. As most of you are probably aware , today was supposed to be London Marathon day . Tom Lupton was going to toe the line . Instead he ran it in aid of charity " Do it for Dan" and his result is quite remarkable. He ran 91 laps around his GAA pitch in a time of 2:38.36 which equates to a 6 minute pb.
Don't forget that we have the second running of the Virtual 5k on Tuesday
Going international again with todays athlete profile. This time its France and Malika Hammani.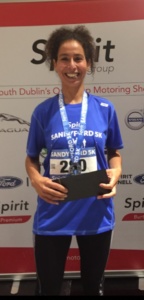 Athlete Profile Episode 13 – Malika Hammani
. How did you get into athletics ?
I guess it naturally happened. When I was in primary school I remember doing the "bip test" and I was the last standing girl along a boy. I can still feel all the classmates waiting for us to finish. That was a sign I was good with endurance exercise.
In secondary school, PE teachers saw the potential and pushed my parents to let me race. I won few medals (I can't remember what for, I think my mum has them). and won team gold for the county cross country race. I finished 6th and my sister 10th.
After junior cert, it all stopped due to my culture, I, as a girl, was to stay at home. The running stopped until after my leaving cert, I left home to go to university. I only ran leisur0ely though.
Then in 2016, I discovered parkrun, my competitive nature took over. I was running more, then TTracers happened.
 2. Why do you run?
I guess running has always been part of my life, From a young age I was running after the school bell. Always running late (not my fault, I was not allowed leave until chores were done!). The secondary school was about 1.5k away. I remember hearing the bell and speeding up trying to make it on time as nobody wants to go to the office!
I also remember running through fields after we moved to a different village (I grew up in countryside).and cows would be running after us lol
For me running is freedom. You go whenever you want/can. and it's free/cheap, well until I joined TTRacers and started running every day, my running wardrobe increased exponentially haha..
I always feel great after running at lunch time, it gives me a break away from the office and I get fresh air. I always try to find parks or nature around me as I enjoyed most of the freedom in nature.
 3. Did you try different events or where you always a distance runner ?
In my short career so far, I tried quite a lot: IMRA, cross country, 10ks, 5ks and recently my 2nd road half marathon.
Long distance wouldn't be my favourite, too long, anything shorter than 4k is too short too fast, hurts too much! so I guess in between could be my distance. Surprisingly, I found the half marathon a race where I didn't finish in  agony and I enjoyed the pace within the group.
4. Can you give a brief synopsis of your running career to date ?
I had a brief junior career as previously stated.
2019 was a good year for me, breaking 40min for a 10k, 19min for a 5k. Coming 3rd in the Wicklow Way Relay with a great team and most importantly winning my 1st race ever, the Sandyford 5k.
5. What would you consider to be your main highlight ?
Winning my 1st race ever! I still walk very proudly and humbly for every podium I reach for my young age category though!
6. When did you hook up with TTracers and what was the reason for doing so?
I hooked up with TTRacers in 2016 after running my 1st half marathon. I worked at RBC with Stuart and Barry. They seem to have been impressed with my time and invited me to join TTRacers. I decided to try. I had never trained before and I never stopped since
7. what would be in your eyes the main advantage of being part of TTracers ?
The great advantage at the time of joining was to be able to train with a talented group and I remember being in awe of who I was running along.
I'm also not good at pushing myself so the group has brought me where I am today.
Also Terry's advice. Last one being the day before the Bohermeen half.  Due to lack of training I was aiming for 4.30min/k pace but I messaged Terry literally the night before  to check what pace I should aim for and after a few questions he said I should able for 4.20min/k (sorry I don't do miles, I let you do the math!) and he was bang on, I did 4.18min/k. He always is. So THANK YOU Terry and all!
8. What's the best running advice you've been given which has helped you to become a better runner?
I can't cite only one. At least 2 combined: DO NOT start fast and consistency. That seems to be working.
9. What's your running ambition going forward?
I started training recently so I guess I still have a lot of learning to do, learning how far I can push myself.
I want to keep enjoying the freedom for as long as possible and injuries free. I might throw a few races on the way.
.I always wondered what would have happened if I was allowed racing when I was younger now I discovered it was not too late and I can still succeed.