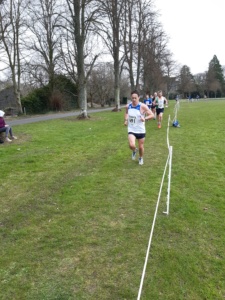 How did you get into athletics ?
I started running in my mid thirties. At the time I just wanted to complete a marathon as one of the items on my bucket list. So I started running around the block one January afternoon and somehow managed to get around Dublin some 10 months later October 2009. Didn't hate it so I had another go in 2010. After that I had enough of marathons so I decided to join my local running club and this is where I really got into athletics and started to look at all of the other race distances.
Why do you run?
I run mainly for health and wellbeing and find it a great way to switch off. I also enjoy the competitive element of targeting a goal race and trying to run a pb or targeting a XC race and trying to move up a few places from your last race – something that keeps me motivated to put the training in.
Did you try different events or where you always a distance runner
I have not run much over the shorter distances and have done very few races under 5k. I have done one 3000m race as part of the Dublin Graded meetings about two years ago and I had a go at 1500m last year as part of the Graded meetings. I was sure I was going to hate it as I don't have the leg speed for the faster stuff but I was surprised how much I enjoyed it tbh. Probably should have done more over the years.
What would you consider to be your main highlight
My favourite race has always been the Ballycotton 10 mile road race so my first run in Ballycotton is up there as one of my main highlights – I was lucky enough to pick up a t shirt that day and they are hard won for a club runner!!!!!!!
One of my more recent highlights was probably Dublin Marathon this year. If I am honest I don't really enjoy marathon training but on the day there is no better feeling than crossing the line after 26.2 miles. It was great to run a pb (2:42), as it was totally unexpected, but looking back now it was really just the coming together of the previous 12 months of quality training that I had done since joining the TTracers. Left to my own devices I am pretty sure I would have been nowhere near a pb.
When did you hook up with TTracers and what was the reason for doing so
I only joined the TT racers towards the end on 2018. Change of job and move into the city meant that I was not going to make my usual club sessions so really the main reason was to try get some sessions done during lunchtime with a group. I had heard of the TTracers through a couple of running mates so I decide to turn up and give it a go. Delighted I did and haven't looked back since, great group of lads to train with and everyone was very friendly and welcoming.
what would be in your eyes the main advantage of being part of TTracers
It's a great advantage to be able to get my running done during lunch at work, but without doubt it's the quality of the training that the TTracers do. The coaching and the sessions are top class and the quality within the group is nothing like I had been used to previously. I can already see it has brought me on a lot over the last 18 months. The support and encouragement you get from within the group is great and I am now back close to running times from some 5-6 years ago – nothing spectacular but until recently these were times I would have said were definitely were in the past!!!
What's the best running advice you've been given which has helped you to become a better runner?
Best piece of racing advice I ever got was to 'live in the moment' just concentrate on what you need to do in the now, in that second, forget about how many miles left or how tired your legs are, just run in the now, tuck in behind or close the gap or keep the guy behind you whatever it is you are doing just concentrate on that – when you are racing you have to ignore the body and try to get your mind to take over!!!
After that I would say the other that I am slowly learning to appreciate is when training do your hard days 'HARD' and your easy days 'EASY' – seems obvious when you say it but I would definitely be one of those runners who trained at a similar intensity all of the time – guilty of just clocking up miles.
Last one is 'Never get old'…not sure about this one anymore to be honest, looking around at some of the TTracers knocking out incredible times in their 45/50 age groups I am beginning to think age is not such a barrier after all!!!!
What's your running ambition going forward?
A couple of more pbs would be nice !!!! but tbh I am enjoying my running again which is the main thing, the TTracers are such a great group to be training with and I can see the improvement in my running, so if I can stay fit and healthy and try keep up with the TT in training then I think the rest will look after itself.