How did you get into athletics ?
I got involved in triathlon around 10 years ago, and that had been my primary focus until recently. I had never run competitively before, so in order to develop that side of things, I joined Crusaders and, later, TT Racers to train.
Why do you run?
I needed to think what I would write here because the answer is very subjective. Although I am a naturally competitive person, the greatest joy I get from running is often not from races, but either doing a hard session with a group where everybody is looking out for and encouraging each other (silently, breathlessly), or easy running with mates, particularly on the hills, enjoying the combination of the exercise and the banter. For me, there's no better headspace – when I run, everything else blurs into the background.
Did you try different events or where you always a distance runner ?
As a kid, I played everything – soccer, football, basketball, life-saving, golf, tennis…When I took up running my focus was mainly on short distances – 5k/10k – as these were the ranges for triathlon. More recently I have transitioned (like any aging race-horse) to longer distances.
Can you give a brief synopsis of your running career to date ?
Although triathlon is my background, of the three disciplines, running was the one I enjoyed the most (and was strongest at). Outside of triathlon season I would have done some road races, and cross country (which I love, without it being my strongest format). An already busy life has got busier 2 years ago when we had our second child and training for triathlon at the level I had been was no longer practical. It was on that basis that I made the call last year to focus on running exclusively, and made the Dublin marathon my goal for 2019. Not having swimming/cycling to distract me, I really enjoyed the consistency I got in my running training, and definitely saw the benefits of increased mileage from a performance perspective.
What would you consider to be your main highlight ?
Without a doubt the Dublin marathon last year, my first marathon. Aside altogether from the race itself – which went well – the experience of day event was out of this world. The feeling coming through the crowds at the start through town, at Castleknock, Tenenure, Milltown, Roebuck, as well as the personal roars of encouragement from family and friends at various points, were just awesome (in the literal sense). I still remember Terry giving me a final a final push at Rolys in Ballsbridge – "Bring it home!". At that stage, I very much needed all the support I could get.
When did you hook up with TTracers and what was the reason for doing so?
I can't remember exactly, but I am going to guesstimate about 5/6 years ago. I had been training with Crusaders in the evenings on Tuesdays and Thursdays and was finding that work demands in the evenings were preventing me making the sessions. Mike McGovern in Crusaders suggested I join Terry's group as an alternative, with lunchtimes being an easier time of day for me to escape the office, and the rest is history!
what would be in your eyes the main advantage of being part of TTracers ?
Two things: 1) The quality of people in the group, both in terms of the calibre of the athletes who I train with directly in group 1, and who have pushed me become a better runner, as well as the sense of camaraderie and encouragement I get from those in the wider group; and 2) The personal guidance by Terry himself who has been immensely generous with his time over the years in terms of giving me direction from a position of experience.
What's the best running advice you've been given which has helped you to become a better runner?
Slow down! In triathlon, the run leg is the last of the three disciplines. As such, after the swim and the bike, it naturally takes some time to get up to pace on the run – existing fatigue means there is no real possibility of going out too hard. To the contrary, it's a question of always pushing as hard as you can. Since this is the environment where I had traditionally been used to running competitively, I have had a few disasters from a pacing perspective when it came to road races over the years. This only comes from racing experience and I think I've got a better handle of pacing recently.
What's your running ambition going forward?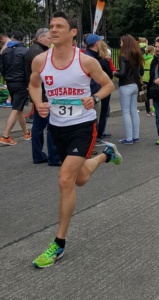 In the short/medium term, getting (and staying) injury free. I am recovering from a stress fracture in my femur which at this stage has kept me out of running for the nearly 10 weeks, i.e. since lockdown began! It's been both a good and a bad time to be injured – there's clearly no races to train for, but it would have given me a welcome outlet from the pressure cooker of a house with two working parents, two small kids and no childcare alternative! I'm back on the bike and sea swimming (to try and suppress the onset of the lockdown stone…), but I have missed my running a lot.
In the longer term, doing another marathon. My Berlin entry for 2020 is now deferred to 2021 so I guess that's my goal!