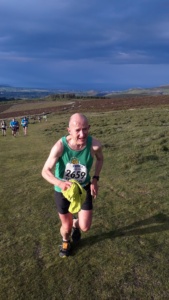 1. How did you get into athletics ?
As a child I always loved watching track and field – during summer holidays in Leitrim in the early 1970s I would sit glued to Kip Keino and David Bedford going round and round the track on our black and white TV.  Couldn't get enough of it.  I tried my hand at every event, but the only one where I excelled and won prizes was the egg-and-spoon race (don't knock it!).
At secondary school being 'given a run' was an alternative punishment to 'doing 100 lines' – you did 'the run' during first break under supervision of a school prefect: a one mile loop up a hill and round some large ponds in front of the school. All within view of the prefect, so impossible to take-short cuts… But I soon found I quite liked the feeling I got during these 'runs'. And pretty soon I didn't mind at all committing the odd minor transgression so I could be given one of these 'punishments'.  So a habit was formed and it stuck.
Then towards the end of my time as a student at Trinity I fell in with the group training out of the Pavilion – Roy Dooney, Kevin Humphreys, Robin Bryson, Joe Peppard and Mick Gygax were some of the names from that time.  I was picked as a wild card entry for a Dublin University Harriers tour of the Netherlands in 1984 – someone was needed to make up the numbers for the 3000 m steeplechase in Tilberg (no-one had ever done the event before and nor had I…) and for a cross country event in Wageningen.  So my career as an international athlete was launched..!
 2. Why do you run?
Barbara Murray put this brilliantly in her recent profile, and I am sort of repeating it here, but I have three similar answers to the question 'why?'  The 'why' when I am hyper is that I am running to calm me down; when things are going ok, it is to keep myself of that even keel; then when my mood is flat or low, I am running to give me a boost.  I remember walking out of a GP surgery many years ago carrying a simple hand-written prescription: '1 run per day, x 5-7 days per week. Repeat and keep repeating'.
But underlying all of this is the sense of freedom and sheer fun that I get from running.  I remember years ago Andy Davies (also a member in TT Racers) saying he thought that 'runners are like children'.  It struck me as a profound comment.   Running at one level is an irrational act. It doesn't make sense. But we love it.   It turns out that theorists had already figured out the centrality of play to human culture and society back in the 1930s, but I feel I (we) have stumbled upon this insight by accident.
For me running creates time, it doesn't take it away.
 3. Did you try different events or were you always a distance runner ?
Over the years I have tried judo, high-jump, long-jump, tennis, table-tennis, golf, squash, soccer, rugby –   even capoeira – but I always seemed to come back to the running.    I have tried all the distances – from 100m to ultra – and cannot say I was ever particularly strong at any of them, but love them all.   My favourite event – usually as a spectator, I have to say – has to be the 800m… The combination of speed and strength, the compression of what seem like hours (if you have ever tried it) into those 2 or something minutes is mind-altering stuff!   That feeling at 500m when all cylinders still seem to firing but the body is seizing up and you are going backwards… All human life is there.  No coincidence, I think, that our coach Terry is a specialist at this distance.
4. Can you give a brief synopsis of your running career to date ?
I ran some marathons in my early 20s but was naïve about training and never threatened the 3 hour barrier.  I did manage 3'05" on one occasion in a TCD race from College Park to Leixlip and back where I was one of only 4 competitors.
I lived in the San Francisco bay area for more than 6 years in the 1980s – the guy in the apartment below me was a former Canadian Olympic marathon runner who invented the Power Bar and he used to give me some of the early samples from his oven to taste ("Horrible, Brian. I'm afraid this will never catch on").  I ran almost every day in the Berkeley hills – training on my own most of time and signing up for the odd event.  My favourite was the Strawberry Canyon trail run,  an upward only 5k climb incorporating the steepest single 100m stretch you have ever seen in your life!  I managed a sub 39 m time in the Lake Merritt 10K – having signed up for (and set out to do!) a 5k… It turned out the organisers didn't mind if you stayed on for another lap of the lake!
When I came back to Ireland I took a 10 year break from running – effectively for the whole of my 30s. I am still not sure why I took that long break, but I feel I put that decade "in the bank" and am drawing on it now.   In 1999 I went back and joined the folks training on Tuesdays and Thursdays out of the Pavilion in TCD.  Over the years since I have dipped into BHAA and IMRA events, completed a Davos Swiss Alpine Marathon (78 km with an alp thrown into the second half…) and a few other hill races in Switzerland where a good friend lives, and the occasional Park Run, but I have always got most fun from the training sessions with this group or when running on trails with my dogs.
5. What would you consider to be your main highlight?
My strongest period was the summer of 2007.  I had been doing serious interval sessions all spring and managed to win the 'Trinity Runners Spring Series' (these were 5k handicap races staged on the first Tuesday of the month over the Irishtown loop circuit) by bringing my time on that course steadily down from 20 minutes plus into the 18 minute zone.  Then in the RTE 5 Mile Road race that summer I managed to go more than 40 seconds below the 30 minute mark.   I noticed that with the hard training I had lost a lot of weight – I was a full 8 kg lighter then than I am now.  More weight, less speed!  Something I need to keep pondering…
6. When did you hook up with TTracers and what was the reason for doing so?
Terry's brother Derek was part of the gang I used to run with in Trinity.  In the early 2000s I noticed Terry there on the side of track after lunch-time sessions – he was just observing and giving quiet advice, when asked.   So in my mind TTracers already started to exist from around that time, though it took formal shape much later.   Joining TTracers for me was completely organic.  It is effectively my club – I have no other – and I declare TTracers as my affiliation for IMRA, BHAA, Park Run etc.  It's such a diverse and interesting group of people – you just have to love it.
7. What would be in your eyes the main advantage of being part of TTracers ?
The people and the camaraderie are the main benefit.  I am at the back of the pack now and lose count of the number of times I am lapped at each session, but I don't feel it matters – I still feel accepted as a member of this group – including our new and exclusive Braystones Covid-19 sub-group! I believe in Terry's mantra that every performance is relative and every person has his or her place.
8. What's the best running advice you've been given which has helped you to become a better runner?
Warm up properly and warm down properly – at least 10 minutes for each. Stretch well. Make sure that that the easy days are easy.  (If you are running for the sake of your overall well-being – physical and mental – then you don't want to spent too much of your time injured or on the physio's table).
Pick an appropriate training plan and stick to it (I am still working on that one…).
After that then basically anything Terry says usually turns out later on to be the best advice I've been given for that particular moment.
9. What's your running ambition going forward?
First things first – I would like to get back below 20 minutes for the 5k.  I've another minute or so to lose, but it has to be all in the mind, doesn't it..? Time enough if I manage that to recalibrate some other goals.
In the back of my mind is the memory of having missed the start of the Athens Marathon in 1983 by a day, having arrived in Greece a whole week in advance to acclimatise for it… Some unfinished business there then…
Otherwise the ambition is just to keep running – to keep up with my dog on the trails around Bray Head and to stay within sight of the back of the TTracers pack for as many more years as I possibly can!