How did you get into athletics?
 I always liked to run but my asthma always held me back. This had somewhat settled down a good bit with the help medication by mid-teens and my older brother Tommy brought me down to the local club Kilmore AC (a former junior club to Raheny Shamrock AC, which has now amalgamated with the club) when I was 14 or so I think. I'd train with the junior section and he'd go off for a longer run/session with the seniors. We'd go back to his apartment afterwards for pizza and watch a movie/listen to music. It seemed a great way to spend the whole day! He was very supportive when I was getting started, bringing me to buy running gear, paying for my entry in the entire season of the Dublin Graded and often dropping back in longer races to help me. Obviously all I could think of was beating him!
 2.Why do you run?
 I run to win, I run for meditative reasons, I run because it makes things worthwhile. Everything's better with a run, the rising of the sun, a nice breakfast, lunch or dinner, once you've got a run in it makes everything else shine even brighter.
 I do love to compete though, and running is a sport you can get out a lot by putting a great deal in. The 100 mile weeks and the ice baths, the stretching and tear-inducing massages aren't sacrifices, they're a joy that show the world in Technicolor instead of a dull nondescript grey. 
 3.Did you try different events or were you always a distance runner?
 From the first moment I got a pair of runners aged 3 or so, ran all day until I fell asleep on the ground, I've wanted to run. I've tried nearly every sport and event going, rugby, GAA, Tennis, Table Tennis, badminton, golf, football and I've tried the hammer and the pole vault in competition (not something I'd recommend without the requisite training) and raced all events from 100m up to 5000m on the track (3000m SC, 4x100m/400m included but discounting 110 hurdles and 400m hurdles), but it's the usually the distance events I gravitate towards and particularly uphill mountain races, preferably at altitude.
Can you give a brief synopsis of your running career to date?
 I've been at it a while so brief I'll try and make it! I've been running for a club on and off since I was a child. I started with Kilmore AC, graduating to the senior ranks and have also run for Wolverhampton & Bilston AC and continue to run for Raheny Shamrock AC and Horwich RMI Harriers AC also.
 I started out on the track as a senior racing many 400/800/1500m races and I did this for a number of years, though maybe from a lack of dedication although I achieved modest success, breaking 2 minutes for 800m and 4 minutes for 1500m on numerous occasions I didn't go onto greater heights.
 After a number of injurious years and a return of asthma issues in 2009, Gerry Brady convinced me to race the World Trial for Italy that year. He told me how I could make the team if I heeded his advice. It was only subsequently that I found out that he had advised many athletes in the same way, however perhaps they just didn't heed the advice. 
 Getting an Irish vest is very special, especially the first one, but it doesn't dull the more you receive. I've been very fortunate to continue to represent Ireland and competed last year in Patagonia, Argentina in the World Mountain Running Championships there. It wasn't a great race for me but it just makes me hungry for more.
5. What would you consider to be your main highlight?
 This is a very difficult one for me to answer, thankfully there have been many. I think it was when I won Mountain Runner of the year in 2015 as it was a culmination of many years and was a recognition of all the hard work and fantastic results throughout that season that I had finally made it. It was a nice touch that Leo Mahon presented it to me and I was speechless for a change. Almost.
 It's been mentioned before by others, but winning the above-mentioned Wicklow Way Relay with first my club Raheny and then TT Racers were also great occasions. A relay makes it seem a lot more than something you are racing for solo. I also had the honour to be beaten for best time on my leg by Alasdair Brown by 7 seconds. My lack of ace fitness told towards the second half and he had a fantastic run. I hope to see him on the hills more often in future, forget this road running lark!
When did you hook up with TT Racers and what was the reason for doing so?
 I joined TT Racers in 2017 as my friend Des Kennedy was training with them, I'd heard good reports and I was tired of training on my own all the time. It helped that Trinity is so central and nearby to work. I suppose I wanted a change of scenery training-wise and was very much enthused by the new training environment with lots of likeminded people who enjoyed the sport.
What would be in your eyes the main advantage of being part of TT Racers?
 I think there are many advantages to being part of the TT Racers gang. I had been without a coach for a long period and despite the size of the training group, Terry is very much hands on as a coach for everyone in the group. It felt great to have someone looking out for me again and Terry has that great quality to know what works for each athlete, a word here or there or a little nudge in the right direction can do wonders. The camaraderie of the group and the genuine people and friendships struck up is also a huge boon. I was unsure if I'd ever get back to being competitive again in 2019, especially after having a bad fall and requiring surgery on my knee, but Terry, Alasdair Brown and the group really helped to spur me on and I think it has to be one of my most miraculous comebacks. The Wicklow Way Relay was a big part of this, hopefully we'll get a chance to race this again this year, at perhaps a later date.
What's the best running advice you've been given which has helped you to become a better runner?
 You'll never learn anything about yourself by going out slow. Another pearl of wisdom from master motivator Gerry Brady! Basically, you've got to be in the race to stand a chance and sure if you fail you can fail better the next time or succeed. I tend to go hard and then go home! On a more serious note, if you take care of your feet they'll take care of you. It's a much ignored fact that the feet and toes are a huge part of running which are often overlooked. Is it any wonder Kenyan runners are so strong? They spend a great deal of their childhood unshod and their feet are able to remain strong, pushing them to world records and Olympic titles. A few minutes a day strengthening your feet can mean minutes faster on another day on a run or in a race.
 9.What's your running ambition going forward?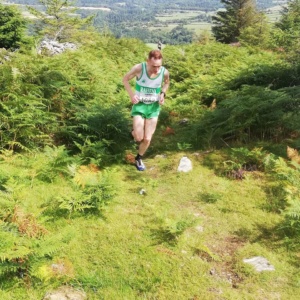 I want to continue to enjoy my running and athletics. If I didn't enjoy it, I'd stop. Each run is like another Christmas day, unique and special, some are better than others, but all are fun. I've many PBs to keep getting and chasing and I've ambitions of winning many more team and individual medals. A Slovenian friend of mine when 49 ran a PB (position-wise) in the European Mountain Running Championships in 2017 (when I myself had a career best of 23rd), placing 19th, so it's all ahead of me.