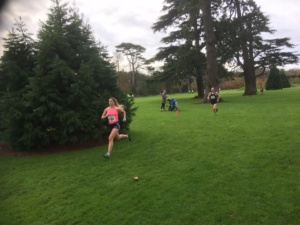 I know you will find today"s very interesting. Its Linda Byrne.
  1.How did you get into athletics ?
I started running in the local community games with my friends at a very young age of 7. For health benefits I was encouraged to take part in Sports. Naturally as a child I enjoyed playing many different sports at that time. I took part in the community games for many years in Santry/Mosney and eventually joined the local running club, Dundrum South Dublin.
2. Did you try different events or where you always a distance runner?
When I was younger I took part in many events including Sprints, Hurdles, Relays, 800m, 1500m,5k and gradually after a number of years and plenty of miles in the legs I started running on the roads moving up to half marathons and the marathon distance. Cross-country was always an event that I looked forward to every year and I was lucky enough to compete on many different  Cross-country courses in Ireland and outside of Ireland.
3. Can you give a brief synopsis of your running career to date ?
As an underage athlete I won many middle distance National Titles on the track and  over Cross-Country. I also represented Ireland for the first time when I was 15 in the World Juniors Cross-country Championships. Following this I continued to represent Ireland for many years as a Junior and Senior athlete in Track and cross-country events. As I got older I continued to focus on middle/long distance running, gradually changing my focus to road racing and working my way towards running a marathon for Ireland in the London 2012 Olympic Games.
4. What would you consider to be your main highlight ?
As a Junior athlete, I finished 4th in the European Junior Cross-country Championships.  Competing in the 2012 London Olympic Marathon was an amazing experience and winning team Gold for Ireland in the European Cross-country Championships that were held in Budapest in December 2012.
Since returning to running, taking part in the Wicklow Way Relay event has also been a highlight and a  very memorable occasion.
5. When did you hook up with TTracers and what was the reason for doing so?
In 2016, after taking a much needed break from Athletics for a few years I decided that I wanted to get back enjoying running again and Ttracers group was suggested to me by a friend. The social aspect and group environment really got me back loving running again.
6. what would be in your eyes the main advantage of being part of TTracers ?
The non-pressured group environment helped me to go back to the basics of running again, allowing me to enjoy running while also making lifelong friends. It is a fantastic initiative that enables people to run together at any level they choose.