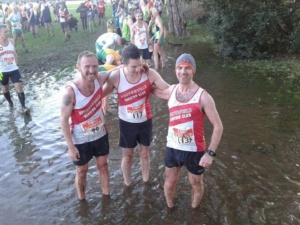 ]
I know have said it for everyone who I have introduced to the profile of how such a nice person they are and it definitely applies to this weeks profile. Never a more decent or sound guy are you likely to meet. This weeks profile is Phil Kilgannon
How did you get into athletics ?
By the certainty of certainty of chance, as the song goes. Though always intrigued by the Olympics as a kid, I quickly saw that I'd be no Carl Lewis, when perennially trundling in last in the annual sprint.  If I was any slower I'd have gone back in time, so they certainly had no fear of having an athletic prodigy on their hands.  
I found my groove though with a cameo appearance in a local race of 2 miles or so when I was about 12. It was around Deansgrange and I won.  I realised that I what I lacked in speed, I made up for with stamina.  
It wasn't until my early 20's though after my fair share of partying that I wanted to get fit and started running regularly. I signed up for the DCM in 2002, which I ran with a couple of mates.  I had no intention of joining a club yet at that stage though.  
At the time, I happened to be working with Dave Bradshaw, who was my doorway in really and has remained a good friend.  Dave has gone onto become a coach himself.  He's an enthusiastic character and natural motivator.  Over a few lunchtime runs he filled me in on the scene, in particular the BHAA, which I've loved ever since.
One Saturday morning, I joined him to run the old Dublin Bus 10 miler in Ballyfermot.  
I remember the moment I walked into the registration hall still.  As I walked through the door I sensed the tangible buzz and anticipation of a buoyant crowd.  A tingle went down my spine and I had a real moment of clarity that I was where I was supposed to be and that these were my people.
Dave also suggested that I head to Mick Dowling's shop in Terenure to buy a pair of runners.  Mick suggested that I come down to Sportsworld to train and there I met Emily, who's been a great mentor and friend through the years.  I've shared a great journey with her and all the guys since, racing hundreds of times on and off road, travelling far and wide.
Why do you run?  
Running is part of who I am, rather than something I do.  I feel good for the day after I run.  I find it both meditative and invigorating, whether with friends or alone.  I love heading up the mountains, exploring new trails and taking in the views.  I so look forward to the sessions up in Crua.  It's magical up there.
I love training; the flow of a session, the rhythm of the group and the irresistible force as it builds during a session. There's a great zen with that sense of focus.
Racing has been a great passion for me also and has given me great self – belief and resilience.  I love the battle of wits and wills with old friends from across the country as well as your training buddies.  It's great towing the line with familiar faces year in, year out as you duck and dive and fight to the line. It's a real brotherhood.  Form and fortunes ebb and flow.  Sometimes you're the hammer and sometimes you're the nail.
I love the quotes of Steve Prefontaine in relation to the art of racing and mental strength needed in finding a way to prevail.  I also see a real beauty in a well – executed race, be it getting the better of a fitter opponent or saving enough powder to nick a couple of places at the end of a race for the team.  Every race I've run has offered a lesson and I've always tried to hone my craft.
Did you try different events or where you always a distance runner ?
3k is as short as I go really and the hamstrings wouldn't last long over anything shorter.  I developed a decent sprint finish over the years, but it's long gone now.  If I go too hard at the end these days, I'll be out for a week or two, so I try to get in a position to avoid doing so.
Can you give a brief synopsis of your running career to date ?
I started competing with Sportsworld in 2003.  I represented the club in most regional and national road and XC championships since and a few national championships on the track.  I've not won much on an individual basis, apart from a few local races.  I've been lucky though to be part of some great teams we've often meddled in races such as national 10k's and half marathons.  Our masters team has been strong in recent years and we've meddled consistently both on the road and country.
What would you consider to be your main highlight ?
On a personal level, getting the green jersey on the masters home nations international in 2013 in Cardiff.  The whole experience was brilliant and I was honoured to share the experience with some people I really respect and admire.  I won gold with the O 35 team that day, which was cool.
Getting on the Dublin inter county team in 2010 was a big achievement for me at the time, albeit on a soft year.  It was up in Derry in the snow and I loved it.
I think though in life the best memories are the ones you share and any day you win something with your mates is a good day.
When did you hook up with TTracers and what was the reason for doing so?
I would have gone down initially in 2013 due to missing club sessions due to work 
I dipped in and out initially I suppose and combined it with club sessions, but from 2015 would have attended more regularly, though with some injury interruptions.
I've always had hamstring problems, particularly my adductor muscle.  It got to the point around then where I just couldn't put sessions together.  I didn't think I'd get back to competitive running to be honest and needed a while to get it sorted.  After a year or so the leg had improved and I eased back into training with TT.  I've learned to manage the injury better and ease off when necessary.  
I'd realised from early on that Terry's sessions really suited me in terms of avoiding injury.  Having a long interval and pace run week in, week out, gives me the speed endurance that I need and can manage sustainably.  Running on grass has really reduced the impact of training and helped my recovery between sessions. 
To be honest, I don't think I'd have continued in the sport as such without this set up and am very grateful to Terry for what has been an Indian Summer in my running life.  Ever since I've returned, I've really savoured each and every session.
what would be in your eyes the main advantage of being part of TTracers ?
Like anything else in life, it's the people.  It's a real array of formidable athletes and good skins.  I've been able to train with guys I've known and respected for years from racing and fresh faces always invigorate the group.  I love seeing how the guys and girls progress and get a buzz from seeing them get their international vests and PB's.
I've missed it all the last while: shooting the breeze with Ed over a long warm up, being entertained by the Toast Master, Niall Murphy and drinking dodgy coffee with Andrea.  
What's the best running advice you've been given which has helped you to become a better runner?
I think your greatest strength is knowing your weakness.  If you acknowledge it and adapt, then you'll perform better.  I've had to race much more conservatively in recent years as I've got older and lost speed, but it's enabled me to still compete.
Be aware of and listen to your breathing.  It'll always guide your pacing.  If you're breathing too hard, you're going too fast.
What's your running ambition going forward?
I guess getting another cap on the masters XC internationals has been in the back of my mind since the last (only) one.  I haven't got close to the necessary shape though to contend.  That's the hard part.  The racing I can do.  
At this stage that ship may have sailed, but I'll lace up today and I'll lace up tomorrow. Then we'll see what we see.