As promised , this is the second week of our trilogy of profiles of our female athletes. I know that when she returned to the sessions a little over a year ago , most of you were unaware of who she was and whaat she has done in athletics as that is her quiet unassuming nature. Hopefully this will give you an better insight of what she has achieved. This week its Deirdre Byrne.
​
How did you get into athletics ?
I reckon running must have been in my make up somehow.  When I was growing up I tried lots of different things, from Irish dancing to gymnastics to everything in between.  But I was always asking my mum why I couldn't just run as anytime there was a sports day or races in primary school, I loved it.  We didn't know that there was such a thing as a running club at the time until my parents saw an ad in the local newspaper for the Community Games.  I was about 9 years old and on the way in that first evening my mum was trying to temper my expectations, maybe because I wasn't from the town or was too young, I might not be able to join.  Anyway, luckily none of these were the case…and I have never looked back
Why do you run?
Why do I run, I just really like it.  The fact that I have met so many amazing people through the sport and gotten to travel to so many wonderful places is really such a bonus.
Did you try different events or where you always a distance runner ?
My first event was the 200m, but that was when it was the longest distance available.  Then when the distances got longer as I got older, I just kept moving up until I got to the 1500m and that felt like a good fit.  Ultimately then as I got even older and slower I moved on to the 5k for a bit but I loved the 1500m for it's mix of endurance and speed.
Can you give a brief synopsis of your running career to date ?
The biggest decision I had to make running wise was whether to go to the States on a running scholarship or to stay in Ireland when I finished school.  I was lucky that I took the path to go to Providence College and was coached by Ray Tracey for 4 years.  It was a brilliant experience and some of my best friends would be those that I shared those years with.  I then took the opportunity to go to California for a couple of years and ran for another college, Calpoly, and also worked there for a further year.  Over those years, I was selected to run on World Student Games and European Cross Country teams.   When I returned to Ireland I kept up running, succeeded in winning National medals in the 3k Indoors and 1500m and 5k Outdoors which allowed me to qualify for European and World Championships.
What would you consider to be your main highlight?
I find it very difficult to pick a highlight.  Still ingrained in my memory is winning my first Leinster Championships.  It was in the U12 Cross Country, possibly in Tinryland but I can't be sure.  I remember the surprise and sheer joy running downhill to the finish line and having my parents there to share in it with me.  But I suppose the highlight competition wise would have to be competing in the World Championships in Berlin in 2009.  It was amazing just to be there and get to compete on such a stage.
When did you hook up with TTracers and what was the reason for doing so?
I had to ask Terry about this one, but think I first joined up with TTracers around 2012/2013 when my friend Aoife Byrne introduced me to the group.  I ran the last leg of the Wicklow Way relay and was overwhelmed by how welcoming and supportive everyone was.
7. what would be in your eyes the main advantage of being part of TTracers ?
We all miss not training as a group at the minute but even at this time Terry and TTracers have managed to keep the group motivated and working towards goals, the recent 5k team challenge being one example of this.  It is a testament to the group as a whole, and more specifically Terry, the sense of community that exists.  It doesn't matter if you are injured, coming back from injury or running pb's, that support is always there.  I suppose the main advantage to the group is just that.
Of course there are a myriad of other advantages too, getting to train with a group of runners that push you to run faster and help you to achieve your goals.  Getting to share your passion with others who are just as passionate about the sport.  As well as the quality of the training sessions and training schedules.
8. What's the best running advice you've been given which has helped you to become a better runner?
Sometimes less is more.  While I have been given this advice by many over the years, it is something that I have failed many times to listen to.  To improve in running, the key element is consistency.  Taking a couple of days off to let a niggle settle can mean not having to take weeks off with an injury.
9. What's your running ambition going forward?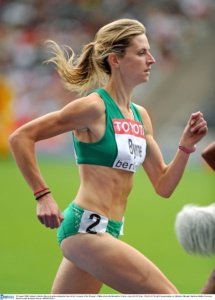 Mostly to just keep enjoying it, to be able to run a little bit everyday.   To keep training with the group and to share in all the ups and downs that come with the sport.  I have always said I would like to run a marathon…..so maybe someday I might get around to actually doing this!