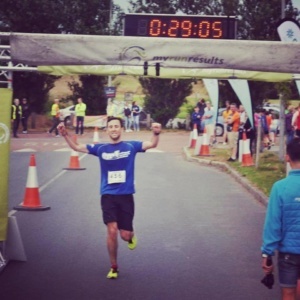 How did you get into athletics ? I went to a school that's main sport was rugby, a sport I never really enjoyed. During transition year I gave it up and started jogging to keep fit and continued that in college. I had never entered any kind of race prior to my first marathon, which was the Dubai Marathon in 2005. I only signed up to this a few days before the race and was done as a way of raising money for the Asian Tsunami that had just happened. The training for this race was rather non-existent and didn't improve much the following years. That initial race however got me hooked into running and in particular big city marathons which I continued doing over the following years, with very slow progress!
Why do you run? The competitor in me is probably the main reason now.  As I've gotten more into the running I've realized the more you put in the more you will get out. So a lot of the running done is just laying the building blocks to improve, with the ambition to hopefully improve, hit PB's in race day or help the club in championships. Having said that I love getting out into nature, whether it is around the trails of Howth or around Clontarf. Running along these stretches on a fine morning before the majority of the city are awake, certainly makes you feel alive!
Did you try different events or where you always a distance runner ? I started out with Marathons, and continued that for a number of years. It was only when joining the TT racers and Donore Harriers that I started mixing up the distances.
Can you give a brief synopsis of your running career to date ? After about 6 Marathons with little improvement, I started getting one on one session with Gary O'Hanlon in 2014 with the aim of breaking 3:30 in the Marathon.  His training really opened my eyes to the essentials that need to be done to improve. I realized there were other avenues that provided similar training, so joined my club as well as TT Racers the following year with the view of improving further. From 2015 onwards, with the exception of 6 injured months in 2016 there has been steady improvement in all distances.
What would you consider to be your main highlight ? There have been a number of highlights but winning Team Gold in the Dublin Intermediate XC champs last year and finally getting my hands on a piece of granite in the Wicklow Way Relay last year (finishing 3rdteam) are my proudest moments to date.
When did you hook up with TTracers and what was the reason for doing so? I started training with the TT racers in the summer of 2015. I was working with Bob Blake at the time and he spoke highly of this group who were training in Trinity so decided to try it out. I really enjoyed the set up from the get-go. The standard was unbelievable to me, hearing stories of the people in the group and their achievements was inspiring.
what would be in your eyes the main advantage of being part of TTracers ? I definitely think at this stage, it has to be the sheer standard within the group.  It's not until you haven't trained in the group for a while do you realize the richness of it. Training with such a vast talent really brings you on often without even realizing it. The group is also a great social outlet. The tempo runs on a Saturday followed by Coffee and cake chatting about all things running is a particular highlight!
What's the best running advice you've been given which has helped you to become a better runner? Listen to the body. If you need a rest, rest.  One session missed is better than Months out injured!
What's your running ambition going forward? I've a niggle in my foot at  the moment, so my ambition is just to get back to running for the pure joy of it (Perhaps didn't listen to my advise J). Long term I hope to keep improving, do well in the IMRA races and hopefully win some more club medals.