Hope you are all well and managing to stay safe and maybe even being able to get in a bit of training. This week's profile is one I know you will find interesting. This guy is one of the most unassuming and decent persons who I have the pleasure to meet down through the years in athletics.He joined the group 3 years ago and what he has achieved in those 3 years is quite remarkable. Just look at the times he has run on the roads  – 15 minutes for 5k, 31 minutes for 10k and a low 2.30's marathon. He has won numerous cross country titles , being on our winning team for each of the 3 years for the Wicklow Way Relay and to top it off is a World champion in his age category in the Mountain Running.
Bear in mind that he only started running as he approached his 40's and is still running pb's over 10 years later. He definitely gives hope to us all that we can still achieve if we put in the work. So here goes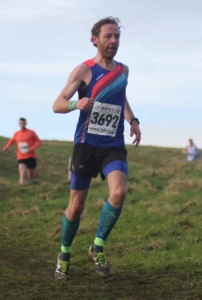 1.     How did you get into athletics?
I started with the very occasional jog at first, then I signed up for
the Gaelforce adventure race in 2009 as some work colleagues were
doing it and it sounded like good craic.  The race involved cycling,
kayaking and about 20ks of running, including a run up and down Croagh
Patrick, so I figured that I'd have to do a bit of training.  I had
met my wife Niamh not long before.  Niamh had been running for a few
years and had ran several Dublin Marathons at stage and had won a team
gold medal with Raheny Shamrock in Dublin 2008.  Niamh signed up for
Gaelforce too and with her influence my occasional jogs became more
regular runs.  We both did our first IMRA trail race as preparation,
and ran the race series 10 mile and Half Marathon in the Phoenix Park
around that time. I think I was about 67 minutes for the 10 mile and
89 minutes for the half.
2.     Why do you run?
Mainly because I enjoy it and the fulfilment that I get out of it.
Whether it's training racing or exploring somewhere new, I just find
going out for a run the natural thing to do at this stage.  Apart from
all the other benefits running is a great way to get out and explore
your surroundings and my favourite running routes are the ones that
bring me close to nature.
3.     Did you try different events or were you always a distance runner?
Yeah, all distance running so far anything from a mile up to a
marathon.  Road, trail, mountain and cross country. I've never
actually raced on a track but wouldn't rule out giving that a go at
some stage. Possibly at 800 metres, and after I get that out my system
I may possibly do an ultra (not on a track I might add).
4.     Can you give a brief synopsis of your running career to date?
At first I was mainly running IMRA races and the occasional road race.
In 2012 I entered the Dublin Marathon and training for that became a
bit of a catalyst.  I downloaded and followed a marathon training
schedule, and I'd also joined Raheny Shamrock, and was training and
running cross country races with the club.  I ran that marathon in
2:51 and after a short break to recover I kept up the same volume of
training minus the really long runs.
From 2013, increased training started to pay off and I started winning
IMRA races and taking good chunks off my road PBs.  I was on the
Raheny teams that won gold in the National Masters Cross Country in
2013, and again in 2014 when I finished 5th overall and second m40.
Later that year I represented Ireland in the British and Irish Masters
Cross Country international in Nottingham and a few weeks later scored
individual bronze at the Dublin Intermediate Cross Country, while also
winning team gold with the club.
2015 was a bit of a lean year due to injuries but I got back in the
groove in 2016, the highlight being representing Ireland again in the
British and Irish Masters Cross Country international in Glasgow and
coming away with an over 45 team gold medal.  My 2017 high points
included being part of the TT Racers winning team in the Wicklow Way
Relay and winning the over 45 race in the World Masters Mountain
Running Championship in Slovakia.  Other highlights in the last couple
of years have been representing Ireland at the World Long Distance
Mountain Running Championship in Poland 2018 and representing Raheny
Shamrock in the European Clubs Cross Country Championship in Portugal
2019.
5.     What would you consider to be your main highlight?
I've been lucky to have many highlights from running so far.  I'd say
out of all the highs that running has given me, winning the over 45
race at the World Masters Mountain Running Championships 2017 would be
tops.  That was a fantastic experience and the best feeling that I
ever had crossing the finish line of a race.
6.     When did you hook up with TT Racers and what was the reason for doing so?
I knew Terry from meeting at IMRA and BHAA races and he suggested that
I should try out the training sessions.  I tried out a session down in
Sean Moore Park in early 2017 and really enjoyed it and it went from
there.  Working in town and being able to take a longer lunch break
means I can fit in the lunch time sessions so I joined up and have
reaped the benefits and improved my running since.
7.     What would be in your eyes the main advantage of being part of
TT Racers ?
The midweek lunch time sessions are great.  Just turn up, join in and
get pushed along by the quality of the group around you. The weekend
tempo sessions are my favourite though.  I've found them really
beneficial.  I didn't really run tempos before joining TT Racers and
I've found that endurance and with it performance in races has
definitely improved.  The coffee and chats after the tempo sessions
are also a great attraction.
8.     What's the best running advice you've been given which has
helped you to become a better runner?
Vary your running and running routes.  Things become a bit stale if
you are doing the same type of running and the same routes all the
time. I think the variety makes you a stronger runner.
9.     What's your running ambition going forward?
To keep running, training, competing and enjoying it and to see what
else I can achieve.  I'd like to run some more of the iconic European
mountain races, and have a go at more masters championships at
national and international level. I'd like to better some of my road
race PBs too if I can.