OK all  – Finally succumbed to this.  Hope I don't bore you too much. The profile this time is Terry McConnon
1. How did you get into athletics ?
My older brother and sister were in the local athletics club ( WSAF AC – Walkinstown) and when I was old enough to join at aged 9 , I did so and as they say the rest is history. That said I also played soccer for the local club , same name as above, GAA for An Caislean and also Rugby for my school Terenure College. I kept up nearly all of the above right up to when I left school and even played soccer  for the club up to May 1990 . This date will  become apparent further down.
 2. Why do you run?
Initially I ran because I was fast . I actually preferred the other sports growing up as I loved the team element that was associated with it and even when I think back and when I answer question 5 below , one of my athletic highlights came in a team event. When I was leaving school , I made the decision to put all my efforts into my athletics to see how far I could go with it.
Down through the years I have actually drifted in and out of running and I must have made more comebacks than Muhammad Ali. Reassured this latest 'comeback' is definitely the final one and each one has had a seperate goal and this one the bar has been set very low indeed. I am at the stage now that I probably enjoy "the run" more than ever before. The enjoyment I get now is the joy that I can just run pain free , which for those of you who are unaware , is an achievement in itself for me as I had to have a hip replacement 2 years ago due to the pain it was giving me every single day. Especially in today's climate , running is a freedom and I am just thankful that I can do it  and hopefully still do for a long time to come.
 3. Did you try different events or where you always a distance runner ?
Similar to the fact that I tried different sports , I can safely say I tried every single event in  athletics at one time or other and not just running . When I started out I actually would be classifed as a Long / Triple jumper and won a number of county medals at under age level. Even now , I wouldn't call myself a distance runner as 800m was always my favourite and most successful event. When I decided to cross the Marathon off my bucket list , I tried on two seperate occasions to see if I could get away with it without doing longer than 12 miles for my long run. When I ran 3 hours and 11 seconds for my second one , I knew if I was to break the 3 hours that I needed to put in a few longer runs . I got it up to 15 miles and ran 2:57. That was me done with the marathon.
4. Can you give a brief synopsis of your running career to date ?
For this and the following question , I am going to break it down into two . One – my own running  career  and Two  – Coaching with TTracers.
Although I have won medals for Cross Country at National Intermediate level, on the roads run a sub 15 minute 5k, a sub 25 min 5 mile and a sub 3 hour Marathon as mentioned previously all the major achievements I have achieved all happened on the track and mainly over 800m. I have the distinction of winning medals at national level starting with Schools and following it at Junior , U/ 23 , Senior and finally at Masters level.
Took up coaching in the early 2000's which I actually fell into when a close friend , Michael McGovern asked me to help him to see if he could win the National Masters 800m . He duly won it and from there I started coaching a few in Trinity. We started off with a handful of runners and again mainly with athletes running middle distance . It was only later on that we started to get runners looking to do the longer stuff.
5. What would you consider to be your main highlight ?
One – For myself two events stand out. Going back to 1990 everyone's attention was on Italia '90 . For me after finishing the football in May ( as mentioned above) with winning a league and cup double in the Leinster League, I made my Senior International debut on the track at an international meet in Austria. This happened to be the day before Ireland's clash with Romania in the World cup . I arrived back to Dublin during the extra time . The good news was there was nobody in customs as they were all in the bar watching the match and I was able to see the penalty shoot out in the bar afterward.
The second one was the National League final the following year. This is a team event where each club puts an athlete in each of the 20 events and the team that accumulates the most points wins. WSAF A/C were competing in Division 2 . We were a small club and had about 8 or 9 athletes.  I personally had to participate in 5 events. 800m,1500m, Triple Jump and the two relays , 4 x100m and 4 x400m. Thankfully I won my two middle distance events but it still came down to the last event the 4 x 400m. I had seen the efforts of the rest of guys throughout the day and knew how much it meant to them . There was no way I was going to let this one go. I ran the final leg and got the baton in 4th or 5th but dragged myself around to get up to win on the line. To see the joy it gave not just the lads running but also the coaches such as founder members Sean and Margaret Grehan , my own coach Leo Mahon and my own Mam and Dad made it such an amazing occasion.
Two – I get great joy out of each and everyone of the group when they individually get rewarded for the work and dedication they put into their running. We have so many of you down through the years reaching goals that I dont think you realised you could do when you started out. If I was to single out just a few of the major ones obviously Catriona Jennings making the London Olympics would be right up there. A lot of you might not be aware but one of my major disappointments happened the same time as I truly believed I could have had two athletes in London only for Aoife Byrne to succumb to injury a couple of months out. Aoife had trained really well the previous winter and ran in the European Cross Country in the December even though she was like me a middle distance runner . On a personal level , I was never more proud than the day my wife Sonya ran in the World Mountain Running Championships  . The hills have been good to TTRacers with Laura Shaughnessy , Niamh Devlin , Ian Conroy , Des Kennedy and Tom Lupton all going on to wear the green singlet at Senior Level whilst being part of the group. Also the 4 timer in the Wicklow  Way Relay has always been a great achievement – back to the team event again.
6. When did you hook up with TTracers and what was the reason for doing so?
This obviously doesn't really apply to me as I was the one who set it up in the first please. Reason for doing so was as I already mentioned , I was training in Trinity myself and coming to the end of my own career as an elite athlete and noticed a few small pockets of athletes running around College Park. I approached a few of them and asked would they like me to put a bit of structure to their training and train as a group  and they agreed . It started from there.
7. What would be in your eyes the main advantage of being part of TTracers ?
I touched on this briefly last week in my report. The main advantage of the group is each and everyone of you. The way you look out for each other and the way you are delighted for anyone whoever they be whenever they run a good race. The support you give to each other is fantastic. This to me is unique  and makes me proud to be a part of it. Also , I discovered very early on the benefit of training in a group. Its not rocket science but if you look at the achievements of our female athletes through the years , I truly believe that the main  reason why they were to do this is that they had so many guys around them helping them in their sessions. I know if you talk to them , they will back me up  on this.
8. What's the best running advice you've been given which has helped you to become a better runner?
Some people might say , what would you know. If I had to break it down it would probably be something like this.
A) If its not broken , don't fix it. A lot of athletes think that ok I am going well but maybe if I do more or try something else I might go even better without realising  that there was no need to change it in the first place and what they were already doing was working.
B) Train don't Strain. You can't go to the well all the time . If you do you break down. Save yourself for the session days and even at that keep it controlled. No medals are ever given out on the training field. If you are always ahead of a guy in training but always behind in races , you have to ask yourself why ?
C) Listen to the body. If your body tells you to take a day off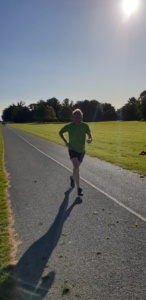 do so . You are doing yourself no favours if you don't.
9. What's your running ambition going forward?
For myself ,its just to keep on running  and nobody knows when the day will come when I can't and enjoy it.
For the running group , its to see as many of you get out of it what you  hope for , whatever that  maybe.
Regards
Terry