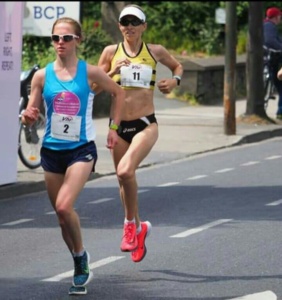 Great day at the Mini Marathon today with excellent performances to report. Our first finisher was Laura Saughnessy who finished 2nd in a time of 34.30 with Linda Byrne next in 5th place in 36.01 and Caitriona Jennings completing the top ten in 10th place (36.52). Julia Hackett also had a fine run.
Over the week we had a number of fine performances in a various events. Last week I missed out on the Run the Gap Marathon with newcomer to the group Rob Priestman taking part. Rob finished in 30th place in 4:08 knocking 25 minutes off his time from last year.
On Tuesday we a had a good number competing at the Goverment Services 5 mile in Dunboyne. Our first finisher was Fergal Whitty in 2nd place (1st O/40 – 26.53) followed by Sean Fox (6th – 27.20) Ken Norgrove ( 11th – 27.44)  Paddy Walsh ( 16th – 27.57) Brian O Mhurchu ( 17th – 27.57) Ed Hayes ( 28.04 PB) Des Tremble ( 1st O/45 – 28.07) Mark O'Connor (29.36 PB) Terry Brady (30.07) Maurice McCrohan (32.02 ) and Tomas Dunne (33.14)
The following evening we had a smaller number than usual with Tim Chapman our first finisher in 14th place , Caoimhin Mac Maolain 17th and Peter Doyle 101st.
Yesterday we had a couple of top of podium performances with Paddy Walsh winning the Tullaroan 10k  and Des Kennedy winining the Run the Rock challenge in Aughrim. Also running Run the Rock were Robbie Costelloe 4th and Caomhain Mac Maolain 6th with the trio winning the team event.  At Tullaroan , this time in the Marathon event Conor Cleary finished 20th overall.
Another podium position , this time in the silver placing was Ronan Dunphy at the Balbriggan 5k in a time of 16.59. Finally Alasdair Brown finished 6th at the Kinvara 10k in a time of 36.43