We had a great day at "The Relay" in Wicklow on Saturday . An event similar to the Wicklow Way Relay where we also achieved simiilar success. Our team which consisted of Tom Lupton, Laura Shaughnessy, Caoimhin MacMaolain, Rory O'Connor and Ian Conroy.had an emphatic victory over a team whixh came down from the north by a margin of 16 minutes. Liz Wheeler was competing for the team which finished second and Clive Quinn help guide his team into 3rd place. Sonya McConnon got a late call up and ran a fine leg to help her team into 4th,. 30 teams took part.
Also racing on Saturday was Fergal Roche who finished 16th overall ( 3rd o/40 – 17.23) in the Bohermeen 5k. Mary Hanley finished 6th overall ( 2nd 0/45 -19.43) in the same race.
On Wednesday Robbic Costelloe had another top ten finish in the IMRA races with 10th place in Sorrell Hill. Sonya McConnon finished 16th overall and was first female home.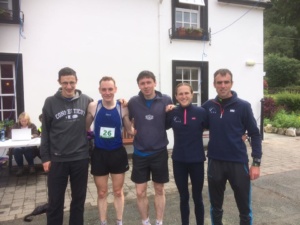 On Thursday Peter O' Sullivan won the 1km at the Galway T& F championships.
A couple of results I omitted to report from last week were Barbara Murray winning the 5k in Balbriggan prior to her magnificent PB in the Mini Marathon. At the Burren half marathon Pat o Loan finished 8th and Ray Magourty finished 16th.