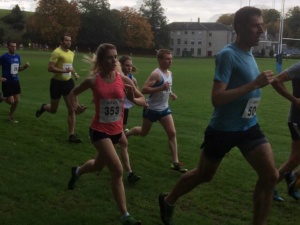 Well it's back. Cross country has returned in earnest with the Teachers cross country and we had a number from TTracers competing. In the women's race we had the winner in the shape of Linda Byrne with Ilona McElroy next in 5th place and Malika Hammani 12th.
In the men's race Des Kennedy was our first finisher in 6th place . Des was also first O/45. Next was Paul Fleming in 9th ( 2nd/ O 40) followed by Ronan Kearns 12th ,Sean Fox 19th , Brian Ó Murchú 23rd , Brian Byrne 33rd, Tim Murray 35th, Ed Hayes 36th ,Fergal Roche 39th, Aidan Blake 42nd, Alan Bernie 43rd ,Niamh Borland 49th , Barry Finn 50th , joe Corcoran 88th and Conor Patton 92nd.
Today Niall Lynch competed in the Amsterdam Marathon and ran a fine 2.47 for the distance whilst over in Hawaii Kevin Gilleece took part in the World Ironman Championships. Kevin finished 72nd overall in his age category. He was also Ireland's 4th finisher overall. Kevin ran the marathon discipline in 3.19 in the gruelling humidity.