F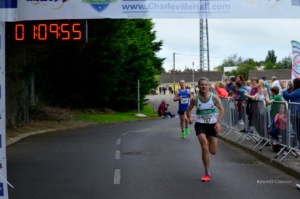 our races with two half marathons giving copious amounts of pb's and podium finishes in the other two races to report on.Today we had the Charleville International Half Marathon with the guys performing some remarkable results. Michael Mc Mahon was our first home in 10th place overall in a time of 69.32 (PB) Michael was followed closely home in 12th place by Brendan Murphy (70.29 PB) with Brian Geraghty next (14th -70.53 PB) Tom Lupton (20th – 73.04 PB) Barry Aherne (78.12 PB) and Derek Taylor (78.22).
Also today James Kelly finished 2nd in the JJ Reddy 10k ( 34.18).
Another 2nd place finish came in the shape of Alasdair Brown at the St Brigids 5k (17.43).
At the Ratoath Half Marathon yesterday , we had a large contingent from the group with Paul Dunne our first home in 82.27  followed by Robert Gilligan (84.25 ) Mark O'Connor (85.02) Sabrina Keogh ( 3rd female – 87.06 PB) Gary Cullinan (87.08) Conor Cleary (89.45 PB) Ronan Fennell (91.03 PB) Tomas Dunne (94.03 PB) Paul O'Donnell (95.33) Johnny Finnegan (98.47) Shane Greenan (99.27) Ray Ronan (1:45.03) and Christine O'Connor (1:47.35 PB).
Finally , thanks to all  who turned out the Swords Parkrun yesterday. I know Maurice really appreciated it
Regards
Terry