Today was the Autumn Cross Country in Abbotstown which incorporated  the trial for the Home Countries International Masters Cross Country and to keep up with previous years we had a couple of guys making their respective teams. Tom Lupton is our first representative after he finished 4th in the O/35 category and Brian Geraghty had the distinction of winning the O/45 category to easily make the team. Colm Costell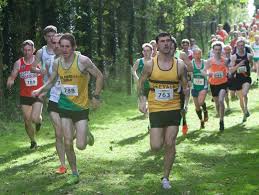 oe just missed out on automatic selection by one place when finishing 6th also in the O/45 category. Hopefully Colm might also get the call up to the Irish team. Others competing were John McAuley (19th – O/35) Ronan Kearns (13th – O/40) and Des Tremble (14th – O/45).
During the week Toby Bedell finished 17th at the Dublin Night Run 10k in a time of 43.52.
At the Festival De Templiers Rob Costello finished in 543rd place in the Endurance race run over 104km with elevation of over 5,000m.
Today Mark O'Connor finished 25th at the Longwood 10k in 40.52 with Christine O'Connor 14th O/40 in 51.57.