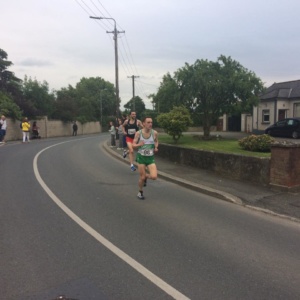 Another great evening of racing at Dunshaughlin last night for their 10k with the results speaking for themselves. In case you are wonder PB stands for personal best. Ian Conroy ( 31.47 / 43 sec PB) Paddy Lyons ( 33.45 / 25 second PB) Laura Shaughnessy -1st Female ( 34.02 / 25 second PB) Terry Brady (35.32 PB) Shane McAuley ( 36.12 PB) Chris Byrne ( 38.22 PB) Barbara Murray -6th Female ( 38.55 / 27 second PB) Julia Hackett ( 43.07 – 4th O/45) Mags McCreary ( 48.25 – 2nd o/60).
Not to be outdone Adrian Black ran a new PB in Drogheda Midsummer 5k with a 18.48 run. This is a full minute improvement from same race last year. Last week Tom Lupton won the Thoroughbred 10k in 34.55 taking some goodscalps along the way.
On the mountain running scene over the last couple of weeks Sonya McConnon has taken victory in both Djouce and Brockagh breaking the course record on each occasion. At Djouce Liz Wheeler was 3rd female with Aidan Blake 34th , Jack Drea 42nd and Ronan Hickey 58th while at Brockagh Brian Kitson finished 27th and Ronan Hickey 54th.