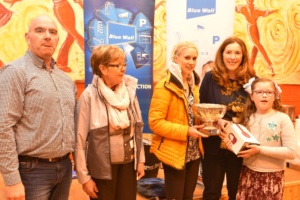 Going to begin this weeks report on a race from a couple of weeks ago which I unfortunately omitted from my report last week. It comes from the Boston Marathon and thoroughly deserves a mention as Peter O'Neill managed to run a PB of 2:57.43 in what we all know was horrendous conditions. Sorry Peter for not including last week.
Last Sunday night after I forwarded the weekly report , we had the Dublin Night run 10k around the streets of Dublin with Ken Norgrove ( 35.49 ) and Chaminda Peris (38.00 – PB ) competing.Also earlier in the week  Maurice McCrohan was 4th O/50 in the  Malahide 5k ( 19.52 ). Clive Quinn won the Wicklow 5k championships with Brian Geraghty 2nd.
We followed up this 1-2 with the first 3 home at the IMRA Glen of the Downs Trail race. We also had 10 in the the top 25 and our 3 ladies all finishing in the top 7. Des Kennedy was our winner followed by Niall Lynch 2nd, Michael MacMahon 3rd, Shane Walsh 13th, Geoff Duff 15th, Alasdair Brown 17th, Gareth Little 19th, Brian Kitson 22nd, Robbie Costelloe 23rd , Peter O'Sullivan 25th, Pearse Coyle 32nd ( 3rd O/ 50) , Andrea Talpo 33rd , Aidan Blake 34th, Conor Daly 73rd and Peter Doyle 93rd.In the women's race Eimear Fitzmaurice finshed 3rd  , Liz Wheeler 4th and Malika Hamani 7th.
Last night we had the Run with Catherina 10k in Cavan with Laura Shaughnessy running a top class 34.11 to finish 2nd in the women's race and Niall Lynch 34.25 to win the mens O/45. Down the south Ruth Fitzgerald won the 49th running of the Waterford to Tramore Road Race. Its a race run over 7.5 miles and Ruth finished in a time of 44.34 . In the men's race Tom Lupton was 5th in 42.00.
Today a little further a field and back across the Atlantic , Fergal Roche won the Run to Heel 5k in Chicago on a difficult course in a time of 18.30.
Think , I got most of you but if I missed you don't forget to let me know as soon as you can if you want to be included in the report.