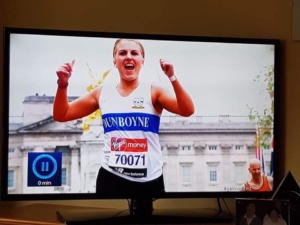 Firstly to today's London Marathon. Sabrina Keogh produced a magnificent performance and  a massive pb with a 3:11.57 run. I think this equates to a 10 minute PB. Ken Norgrove also ran extremely well and finished 2nd O/50 in a time of 2:36.22.
A little further afield over in Hong Kong , Caitriona Jennings won the 15k Mount Butler Heritage Trail Race  and only just missed out on breaking the course record . Nearer home Sean Fox making his return to competitive action finished 2nd in the Ashbourne 10k in a time of 38.36.
Finally, I omitted to post the results from last weeks IMRA trail race in Glen of the Downs where we had a number competing. Robert Costello was our first homein 12th place followed closely by Brian Kitson 15th with Liz Wheeler next (2nd Female / 1st O/40) Brian McGuickian ( 6th – O/50) , Tanya Sheridan (4th Female) and Kate O'Mahony ( 16th Female). This week IMRA moved on to Druids Glen with Niall Lynch just missing out on victory for 2nd place. John Mcauley was next in 9th , Brian Kitson 12th, Liz Wheeler ( 3rd female – 2nd O/40) Brian McGuickian ( 5th O/50) and Ollie McGrath 60th.