Before I write the report , I want to wish Ian Conroy and Niamh Devlin all the best this week  when the represent Ireland in the European Mountain Running championships which are being held in Slovenia on Saturday.
Not too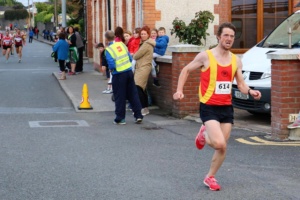 much to report on the racing with there being no race to report on  that I can see from last Monday.
Tuesday – BHAA 5k Trail race, Phoneix Park. Des Kennedy missed out on victory by 1 second but stil managed a fine  2nd place. Brian O' Mhurchu finished in 5th. Ilona McElroy was 17th overall and 3rd female with Conor Patton 2nd in the O/55 category.
Wednesday – Tibradden IMRA. Brendan Murphy finished a close 2nd place with Robbie Costelloe also making the top 10 in 10th place. Sonya McConnon had her 4th victory in a row with 13th overall and Caoimhin MacMaolain 16th and Brian Kitson 23rd
Thursday  -Clonee 10k . Our first finisher in 4th place was Martin Hoare in 32.38 followed by his brother James in 8th place 34.24 with Fergal Roche 1st O/40 in 35.55 and Alan King 8th O/40 (38.34) and Tomas Dunne ( 40.39)
Friday – Bruff . Rory O'Connor brought us our first male overall victory of the week winning in a time of 25.48. Over in Kilcock at their 5k Ian Conroy posted his 2nd PB of the week for 5th place ( 15.13) Paddy  Lyons if I am not mistaken broke 16 minutes for the first time with 15.59. Paul Fleming ran 16.15 ,Conor MaCarthy (16.50) with the girls Jean Wilson  2nd O/40  ( 18.34 ) and Mary Hanley ( 1st O/45 – 19.29)
Saturday – Anne Curley won the Clontarf Half Marathon in a time of 1:29.29 with Maurice McCrohan running 1:32.39 and James Cullen 2:10. In the 5 miler event Kiera Roche just missed out on a female double with a close 2nd place (32.00) . On the far side of the country in Achill we had yet another near miss with Barbara Murray only missing out on a victory by 1 second  in the 10k event. Julia Hackett was 6th in the same race. Alasdair Brown was 5th overall in 38.32
Sunday – At the ironman in Austria both Kevin Gillecce and Sean McCann ran 3;02 for the marathon leg of the discipline. Kevin was 32nd overall. At the Masters track and field Peter O Sullivan took gold in the 1500m and bronze in the 800m in the O/40 category. Ronan Kearns just missed out on the medals with 4th place in the O/35 800m.
Thats all that I can see for this week , so well done to everyone on a great week.