Back from the holidays so its a quite expansive report that I bring you. Great to see so many impressive performances with a number of pb's, podiium finishes and a couple of victories to top it all off.
Starting with the Docklands 5k which was held on the 20th June through the streets of Dublin. We had a considerable amount in attendance and Ronan Dunphy had the honour of being our first home from the group in a time of 16.46. He was followed closely by Fergal Whitty (16.49 ) with Ciaran Alyward next in 16.55. Conor McCarthy (17.26) Mark O'Connor (17.30 PB) Paul Dunne ( 17.36 PB) Paul O 'Donnell ( 18.05) Conor Keating (18.19) Jason Harte (19.01) Barbara Murray ( 19.46) Leah Benson ( 20.46 PB) Julia Hackett ( 2nd O/45 21.41) and Christine O'Connor ( 22.39 PB) .
Two days later on the Saturday we had our first victory with Ruth Fitzgerald winning the Waterford Half in a time of 1:21.27.On the same day we had the popular Dunshauglin 10k . Michael McMahon turned in  a magnificent performance to be our first finisher in 8th overall and smashing his pb by a minute with a time of 31.12. Other fine performances came from Paul Fleming ( 33.07) Ed Hayes (35.09) Alasdair Brown (35.18) Tom Feeley ( 35.56) Niamh Devlin ( 36.55) Terry Brady ( 36.58) Barry Finn(37.01) Geoff Duff ( 37.12) Paraic Shortall ( 37.35 PB) Ollie McGrath (38.20) Eoin Kealy ( 38.39) Maura Ginty ( 39.19) Florrie Curley (40.07) Sabrina Keogh (40.49 PB) and Maurico Neto ( 41.17) .
Tom Lupton won the Mountmellick 5k in a time 17.39.
At the other end of the distance scale Peter Doyle was 5th in the Ticknock Tick Tock  which is run over 78k.
On the 27th June we had the Clonee 10k . Mark Yeates was our first finisher in 36.24 followed by John McAuley ( 36.35 ) Geoff Duff (36.41) Mark O'Connor ( 37.14) Niamh Devlin ( 2nd female – 37.55) David Tonge (39.53) Sabrina Keogh (40.36 PB) Ronan Fennell ( 42.37) and Christine O'Connor (46.41 PB).
The following night we had a remarkable 9 runners breaking the 17 minute barrier at the Kilcock 5k lead home by Paddy Lyons ( 15.58 PB) Ronan Dunphy (16.15 PB) Fergal Whitty (16.23) Ciaran Alyward (16.29) Paddy Walsh (16.42 PB) Phil Kilgannon (16.52) Des Tremble (16.53) Barry Aherne (16.53) Ed Hayes (16.56) Conor McCarthy (17.09)  Tom Feeley (17.08) and Ollie McGrath ( 18.33)
On the Sunday James Kelly finished 3rd in the Kilkenny Senior 10k in 33.43
Yesterday was the Achill Half and Paddy Lyons had a podium finish with 3rd place in 1:16.55.Another podium finish came today from Sabrina Keogh who finished 2nd in the Allan Russell Memorial 5k in yet another PB time of 19.22. A top of the podium came from Ronan Dunphy who won the Clontarf 5 mile in 27.44 .
Also at Clontarf in the half marathon Keenan Furlong ran 1:26.23 with Ronan Fennell completing the distance in 1:34.57. Conor Kinane ran 38.59 in the Clane 10k.
Up in the mountains over the last couple of weeks we first had the Sorrell Hill in Blessington and yet another podium finish . This time coming from Des Kennedy in 2nd place followed by Alasdair Brown 6th, Brian Kitson 11th, Robbie Costello 23rd , Caoimhin McMaolain 31st, Fergal Daly 56th, Conor Nolan ( 1st O/60) and Mick Gygax 81st.
At Mweelea Brian Kitson made the top ten with a 9th place finish.
Finally last Wednesday was the Trooperstown race and one more podium finish with Ian Conroy 3rd, Brian Kitson 16th , Brian McGuickian 32nd, Conor Nolan 37th and yet another 1st O/60 placing. Gareth Little 40th and Mick Gygax 53rd.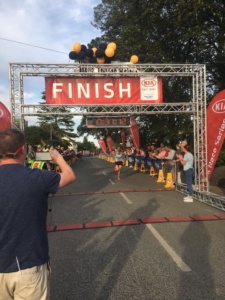 Regards