Excellent performances all round at the weekend but a special mention must go to all the girls who definitely kicked ass over the weekend in their respective races Pride of place goes to Marie who won the National Intermediates in Dundalk yesterday.
Results from National intermediates & masters
Intermediate Women:1st Marie H, 12th Ilona McE, 17th Niamh B
Intermediate Men: 55th Conor McC
Masters Women:11th O/40 Barbary M, 37th O/40 Julia H, 8th O/45 Mary H
Masters Men: 4th O/40 Paul F, 6th O/40 Niall L
Results from BHAA in Firhouse,
Womens 2mile:1st Niamh D,2nd Sonya,4th Sarah K,Diane McN 29th.
Men's 5mile:8th Paul G (3rd O/40), 10th Terry B 12th Fergal R ,20th Peter O'T, with Alasdair B, Eoin K , Robbie C,Brian B,Brian K, Andy D ,Conor P, Alex F, Damien W and Des C all having fine runs.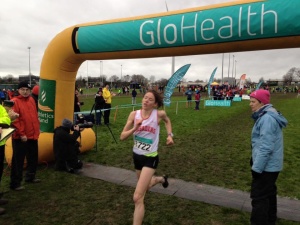 More photos from the BHAA Firhouse Race!