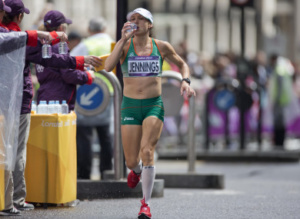 With no competition being able to report on for now or for the foreseeable future , I have decided to run a weekly profile of a selected athlete within the group. What I have done is asked them to complete a small questionnaire to how they started out in athletics and what they have done so far . I thought to start it off  that there would be no better person  to begin with was one who is with us from almost the beginning and who has gone on to forge a remarkable career , Caitriona Jennings.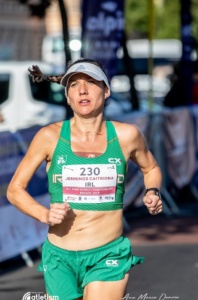 1. How did you get into athletics ?
My parents were very sporty and brought my two sisters and me swimming when we were very young (I was 4 when I got my "10 meter Badge").   They encouraged us to try all sports so I played basketball, badminton, volleyball, camogie, cycled and ran until I was about 14 or 15.  I started triathlon around that time too.  I didn't focus entirely on running until I was in my early 20's.
2. Did you try different events or where you always a distance runner ?
I loved trying out different events, particularly when I was younger.  It was a fun challenge to run lots of different distances and over different terrains – I ran 800m on the track, 1500/3000m on the indoor track, cross country and road races – Terry was the main reason I tried out lots of different events as he encouraged me to have fun with it and give it a go.  Ironically, I think the 800m was the hardest of all the events I have tired – I'm not used to dealing with all that lactate!!
3. Can you give a brief synopsis of your running career to date ?
I started as a club runner, focusing mainly on cross country team events and national road races – after being selected for the World Half Marathon Championships in 2010 and becoming part of Marathon Mission I began to focus on longer distances and realized that was where my real strength was. Key achievements include representing Ireland at the London Olympic Games in 2012, finishing 3rd in Comrades in 2019, achieving 4th and 7th places in the World 50K championships and being the current Irish record holder for the 50k,
4. What would you consider to be your main highlight ?
Qualifying for the Olympic Marathon at the Rotterdam Marathon 2012.
5. When did you hook up with TTracers and what was the reason for doing so?
I started to train with Terry long before TTracers had officially formed – there was a group of about 8/10 keen runners that Terry coached on Saturday mornings in Phoenix Park and at lunchtime in Ringsend Park/Trinity.  It was a group of incredibly positive individuals and I loved the buoyant environment and sense of team spirit which dominated all training and racing.  Terry continuously encouraged me to push harder and achieve my potential – not in a way where I felt any pressure which was an incredible skill.  It's fantastic to see how the original group has evolved into TTraces now with multiple times the number of runners but still maintaining the fundamental principles which Terry continues to instill.
6. what would be in your eyes the main advantage of being part of TTracers ?
Training with people is so much easier than training alone.  TTracers has a great group of athletes of all abilities so you always have something to aim towards.  If you're feeling tired, you can sit in with the group… and on days where you feel fresh you can lead it out or even jump up to the next group. The advantages are evident in continued outstanding results produced by the group at both local and international races. Training with individuals that have been selected for national teams enables others to see the pathway of achieving that too, raising the overall standard of the group.