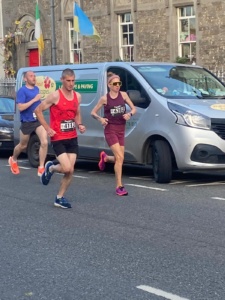 Another good week this week to report on. On Wednesday night we had the last of the Imra summer league at the Sugar Loaf Bowl and we had a good number in attendance . Our first home who was making a return after a long lay off was Barry Minnock in 9th overall and 1st O/45 . Next home was Ciaran Alyward in 11th (3rd – O/40) . Also making a return to competitve were our next two home with Des Kennedy 15th (2nd O/50) and Niall Lynch 17th ( 3rd O/50) with Robbie Costelloe next in 23rd, Niall Fox 24th, David Naylor 27th, Brian Kitson 34th, Gareth Little 47th, Conor Daly 90th and Sinead Fahy 149th.
  A result from last Sunday which I didn't have when posting the report was Log Na Coille with Tom Luptom finishing 6th overall (2nd M/35) and Brian Kitson 21st (3rd M/50)
On Friday night was the Streets of Athboy 5k and we another great performance from Laura McDonnell who is going from strength to strength. We knew we would get a good performance following her excellent session on Cruagh and the mile reps in Naomhs Olafs. Laura only recently broke 17 minutes for the first time but she improved it again with another win thi time running 16.44 . Also running well in Athboy was William Walsh (18:16) and Tom Geoghegan (18::34)
Last night Alasdair Brown was looking to run sub 27:30 for the Streets of Galway 8k and he duly obliged with a 27:29 run. How is that for predicting
Today in very warm conditions was the Kilbeggan 10 mile and good runs came from Brian Geraghty ( 5th Overall – 55:20) , Ed Hayes ( 18th – 58:54 ) Paddy Walsh ( 23rd – 61:53) and Brian O'Mhurchu ( 32nd – 63:56) .
Finally , you might be missing out if you aren't making the Saturday sessions. .We had over 30 in attendance yesterday morning and it seems to be getting better week on week.